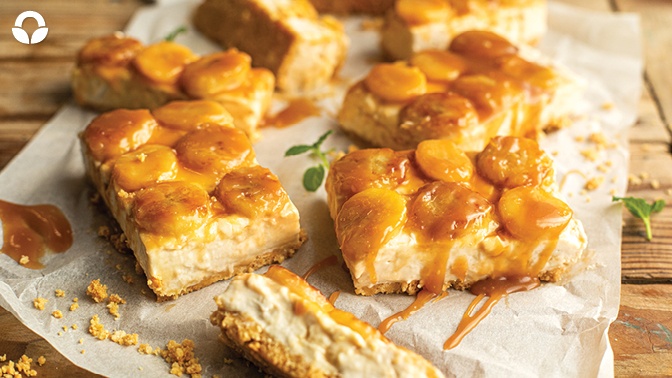 Banana and Caramel Cheesecake Bars
https://foodloversmarket.co.za/recipes/banana-caramel-cheesecake-bars/
Creamy, silky smooth and sweet, these cheesecake bars are perfect for an on-the-go treat, to pack for a picnic or serve as dessert at your next dinner party. A crunchy coconut base, with a smooth cheesecake filling and topped with sweet caramelised bananas, heaven on a plate right?! Don't be scared of the gelatin, it's easier than you think, just follow the steps.
*Setting time: 1 hour 30 minutes 
Ingredients
For the Crust:
200g (1 packet) coconut biscuits, crushed
125ml (1/2 cup) butter, melted
For the Caramel:
250ml (1 cup) white sugar
90ml (6 Tbsp) butter
125ml (1/2 cup) cream
For the Filling:
5g gelatin (half a sachet)
500g cream cheese, softened
180ml (3/4 cup) banana, mashed (about 2 medium bananas)
180ml (3/4 cup) Food Lover's Full Cream Yoghurt
125ml (1/2 cup) castor sugar
60ml (1/4 cup) caramel 
For the Topping:
30ml (2 Tbsp) butter
4 bananas, thinly sliced
60ml (1/4 cup) caramel
Directions
For the Crust:
Prepare a 22 cm x 28 cm tin with parchment paper and non-stick spray.
In a large bowl, combine the crushed biscuits and melted butter together until well combined.
Press the mixture into the prepared tin and set in the fridge for 30 minutes while you make the caramel and filling.

For the Caramel:

In a medium sized saucepan over medium heat, melt the sugar until completely dissolved. Add the butter and stir continuously until melted and well incorporated. Slowly add the cream, stirring as you pour. It will sizzle a bit, just keep stirring. Remove from the heat and set aside to cool. Remember to reserve 60 ml (1/4 cup) of the caramel for the caramel swirl in the filling.

For the Filling:

Mix the gelatin with 30 ml of water in a small bowl and stir until the gelatin has completely dissolved.
In a large mixing bowl, beat the cream cheese, mashed banana, yoghurt, and sugar together until smooth. Melt the gelatin mixture in the microwave for 30 seconds and gently fold it into the cream cheese mixture.
Pour the mixture over the prepared crust and swirl with the caramel. Place back in the fridge and allow to set for 1 -2 hours or until firm.