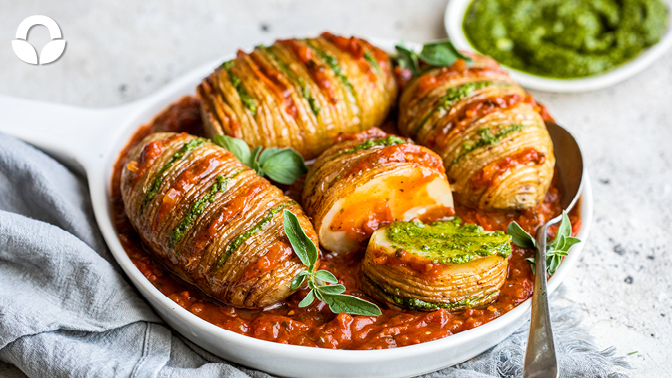 Basil and Tomato Concertina Potatoes
https://foodloversmarket.co.za/recipes/basil-tomato-concertina-potatoes/
Potatoes are one of the most versatile ingredients in any kitchen and we all have our favourite way to serve them…​Looking for an exciting new potato recipe? This one might just become your new favourite…introducing the potato concertinas (commonly known as Hasselback potatoes); each slice filled with basil pesto and flavoursome, homemade tomato relish, grilled to crisp perfection. Give this recipe a try. 
Ingredients
For the Tomato Relish:
Olive oil
4 large ripe tomatoes, chopped and peeled
1 onion, finely chopped
1 x 400 g can chopped and peeled tomatoes
1 garlic clove, chopped finely
15 ml (1 Tbsp) honey
5 ml (1 tsp) cloves, ground
30 ml (2 Tbsp) teriyaki sauce
80 ml (1/3 cup) freshly chopped basil, origanum and thyme
Salt and black pepper, to taste
5 ml (1 tsp) cinnamon
For the Concertina Potatoes:
6 large potatoes, washed
Olive oil
Salt and black pepper, to taste
80 ml (1/3 cup) basil pesto
Fresh origanum, to garnish
Directions
For the Tomato Relish:
Heat a medium pot on a medium to high heat with a dash of olive oil.
Add the fresh chopped tomatoes and onion and sauté for about 3-4 minutes.
Add the rest of the ingredients except the fresh herbs.
Allow to cook for about 30 minutes before adding the fresh herbs and seasoning.

For the Concertina Potatoes:

Preheat the oven to 200°C. Cut indentations into the potatoes with about 3 mm spacing in between the cuts.
Place the potatoes in an oven tray, drizzle with olive oil and season with salt and black pepper.
Place in the oven for 15 minutes, turn the oven temperature down to 180°C and bake for another 30 minutes or until golden brown.

Fill the potatoes with basil pesto and the tomato relish and serve on a bed of relish, with fresh origanum.