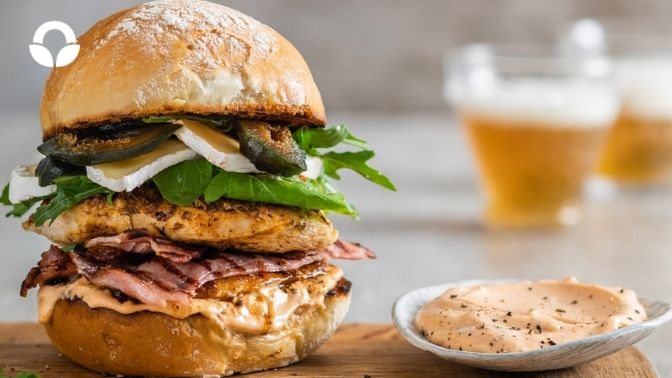 Grilled Chicken, Brie and Fig Burger
https://foodloversmarket.co.za/recipes/chicken-brie-fig-burger/
Lightly grilled chicken, brie, figs, and bacon…could one ask for a better combo?! All you need is a refreshing glass of Sauvignon Blanc.
Ingredients
4 skinless, boneless chicken breasts (from our butcher),
15ml (1 Tbsp) Food Lover's Signature extra
virgin olive oil
Salt and pepper, to taste
4 Portuguese-style burger buns (from our bakery)
250g Food Lover's back bacon
100g Brie cheese, thinly sliced (about 2mm thick)
80ml Food Lover's canola mayonnaise
30ml (2 Tbsp) sriracha sauce
Green fig preserve, to taste
30g wild rocket
Directions
Brush the chicken breasts with olive oil and season with salt and pepper. Place them on the braai for 4 to 5 minutes per side - making sure that they are cooked all the way through.
In the meantime, grill your bacon on the braai until it's crispy. Place you buns, cut-side down, on the braai to get them crispy.
Mix together mayonnaise and sriracha sauce and season to taste.
Assemble the burgers by spreading the sriracha sauce on each burger bun.
First, place two slices of bacon, then a chicken breast on the bottom bun, followed by the wild rocket, a few slices of brie and a dollop of fig preserve. Top with the other half of the bun.