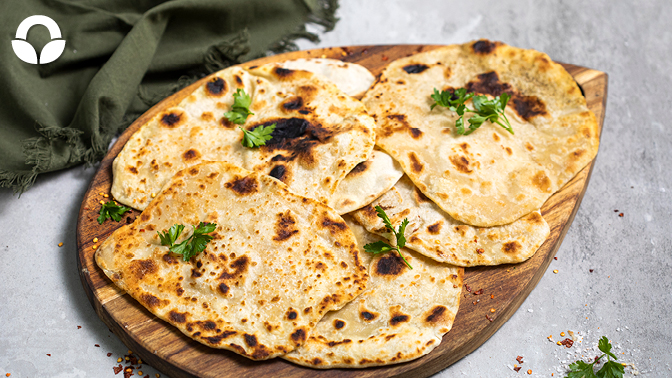 East African Chapati
https://foodloversmarket.co.za/recipes/east-african-chapati/
Easy to make chapati that is flaky, layered, and delicious. Made with a few simple ingredients. East African Chapati is unleavened pan-grill bread. How does East African Chapati differ from Indian Chapati? East African Chapati uses white or all-purpose flour and is 'coiled' – which forms the layers, unlike Indian Chapati, which does not have layers nor uses oil. Some say that the East African Chapati is more like a parantha. To save time, you can skip the layering steps and make these into simple flatbreads.
These chapatis are perfect to use as a wrap or dunk into a saucy stew or curry.
Category
African Flavours
Breads
Dairy Free
Homemade Products
Side Dish
Vegan
Vegetarian
Ingredients
500 ml (2 cups) flour
250 ml (1 cup) wholewheat flour
10 ml (2 tsp) salt
45 ml (3 Tbsp) coconut oil, melted
310 ml (1 ¼ cup) water, lukewarm
Directions
In a large mixing bowl, combine all the ingredients and mix until a dough starts to form. On a lightly floured surface, knead the dough for about 3-5 minutes or until smooth and elastic.
Cover the dough and allow to rest for about 30 minutes. (Poke the dough ith your finger, if it bounces back, it's ready)
Divide the dough into 6-8 smaller balls. Roll them out on a lightly floured surface to about 3 mm thick.
For the layering: Gently brush them with oil and roll them (like a scroll). Coil the dough (so it almost shapes like a coney bun), cover and allow to rise again for about 10 minutes. Then roll the dough out on a lightly floured surface. (If you do not wish to layer the dough as much, you can skip this step.)
Fry on a medium heat for about 2-3 minutes per side or until cooked and golden.