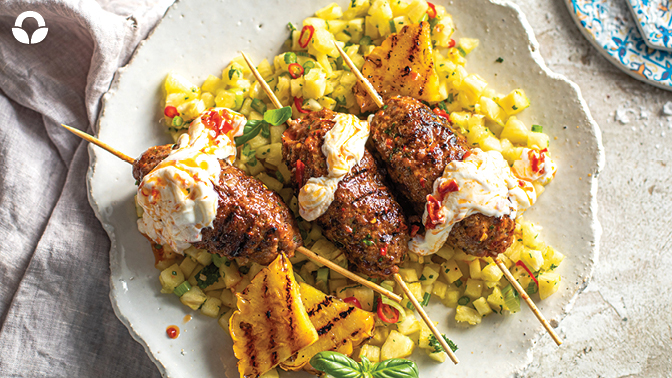 Easy Beef Koftas with Grilled Pineapple & Pineapple Salsa
https://foodloversmarket.co.za/recipes/easy-beef-koftas/
These are super simple, quick and delicious beef koftas, using just a few ingredients! Pair them with this pineapple salsa and creamy sauce.
Ingredients
For the Beef Koftas:
750g Food Lover's Market Ground Beef
1 large egg
1 large onion, finely chopped
2.5ml (1/2 tsp) garlic powder
10ml (2 tsp) paprika
10ml (2 tsp) coriander powder
5ml (1 tsp) cumin powder
5ml (1 tsp) chilli powder
30ml (2 Tbsp) parsley, finely chopped
Salt and pepper, to taste
For the Grilled Pineapple:
15ml (1 Tbsp) honey
3 pineapple slices, cut into quarters
For the Pineapple Salsa:
1/3 a large pineapple, cut into small cubes
15ml (1 Tbsp) mint, finely chopped
15ml (1 Tbsp) fennel, finely chopped
Zest and juice of 1 lemon
Directions
For the Beef Koftas:
Soak 8 skewer sticks in water for 10 minutes to avoid them burning when cooking.
In a large mixing bowl, combine all the ingredients together. Divide the mixture into 8 portions and roll into short sausage shapes. Skewer the mixture and make sure it is stuck on well.
Heat a large griddle pan with 15ml (1 Tbsp) of oil. Cook the Koftas for 7 – 8 minutes on all sides or until the meat is cooked through.

For the Grilled Pineapple:

Place the pineapple quarters on a griddle pan with 10 ml (2 tsp) of oil and brush with the honey. Cook both sides until you start to see the griddle marks on the pineapple.

For the Pineapple Salsa:

Place all the ingredients together in a medium sized mixing bowl and mix until well combined.
Serve with the Koftas, grilled pineapple and a creamy sauce of your choice and enjoy.
---
Notes
What sauce can I make for the Koftas?
If you're looking for an easy ready-made option, try the Food Lover's Creamy Peri Peri sauce, or buy a tub of tzatziki or hummus.
If you'd like to make your own creamy sauce, then try one of these:
Cream Cheese & Sweet Chilli (mix it together et voila!)
The famous Paw Paw Dressing
Explore all our sauces and dips recipes here.