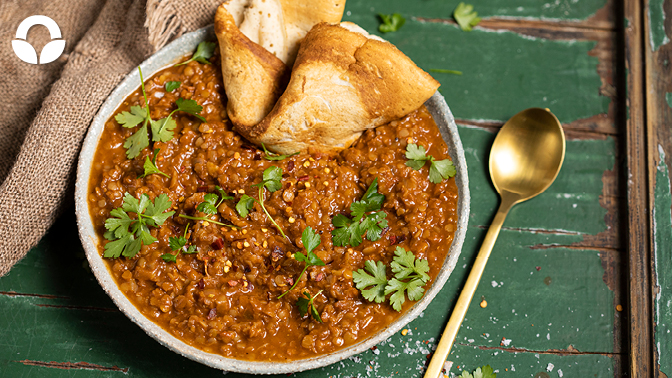 Ethiopian Spiced Red Lentils
https://foodloversmarket.co.za/recipes/ethiopian-spiced-red-lentils/
A spicy vegetarian dish using a homemade spice blend and red lentils, meat-eaters won't miss the meat! This Ethiopian dish is known as "Misir Wat", and uses a beautiful spice blend 'Berbere'.
Berbere Spice is a hot peppery spice made with a combination of spices such as chili, garlic, cumin, ginger, coriander, cinnamon, nigella, fenugreek, and ajwain. It is most often used in stews, of meat, vegetables and lentils but you can add it to anything. This delicious Ethiopian lentil stew can be served with a homemade Injera flatbread. We made a local, South Africa version of Injera, try it here. 
Make the Berbere Spice Mix and store it in an airtight container for future use.
Ingredients
For the Berbere Spice Mix:
125 ml (1/2 cup) dried chilli flakes
60 ml (1/4 cup) paprika
15 ml (1 Tbsp) cayenne pepper
5 ml (1 tsp) onion powder
5 ml (1 tsp) ground ginger
5 ml (1 tsp) ground cumin
5 ml (1 tsp) ground coriander
5 ml (1 tsp) ground cardamom
5 ml (1 tsp) ground fenugreek
2.5 ml (1/2 tsp) garlic powder
2.5 ml (1/2 tsp) cinnamon
Pinch of cloves
Pinch of allspice
Pinch of nutmeg
For the Ethiopian Spiced Lentils:
45 ml (3 Tbsp) butter or Ghee
1 onion, chopped
1 tomato, chopped
3 garlic cloves, grated
50g tomato paste
30ml (2 Tbsp) Berbere Spice Mix
250ml (1 cup) red lentils
500ml (2 cups) chicken stock (*or Vegetarian/Vegan-friendly stock)
Salt and black pepper, to taste
Directions
For the Berbere Spice Mix:
Place all ingredients in a blender and blend until smooth.

For the Ethiopian Spiced Lentils:

Heat a pot on a medium heat. Melt the butter and add the onion, tomato and garlic and sauté for about 3-5 minutes. Add the tomato paste and spice mix and cook for about 1-2 minutes.
Add the red lentils and chicken stock and simmer for about 20 minutes, stirring regularly or until cooked and thickened.
Serve with Injera flatbread.