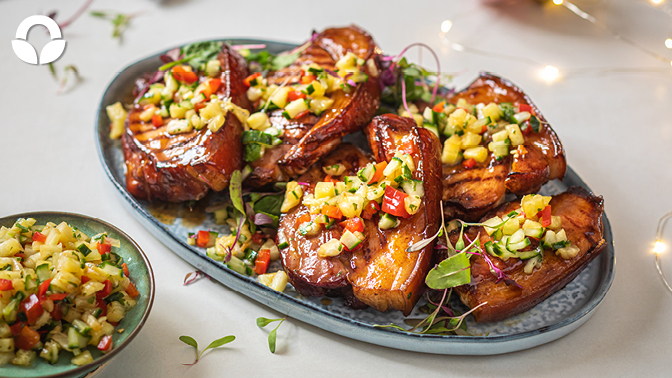 Pete's Grilled Smoked Gammon with Grilled Pineapple & Chilli salsa
https://foodloversmarket.co.za/recipes/grilled-smoked-gammon/
Pete Goffe-Wood's famous grilled smoked gammon topped with grilled pineapple salsa, with a chilli kick! You can also enjoy this pineapple & chilli salsa with grilled pork chops.
Cooking Time
1 hour 15 minutes
Ingredients
For the Gammon:
2kg Food Lover's Market Smoked Boneless Gammon
2l (4 cups) water
4 bay leaves
6 cloves
4 star anise
30ml (2 Tbsp) coriander seeds
1 onion, quartered
6 garlic cloves, crushed
For the Salsa:
1 pineapple, peeled and cut into rings
1 cucumber, seeds removed and diced
1 red pepper, seeds removed and diced
2 red chillies, finely chopped
1.5cm fresh ginger, peeled and grated
Zest and juice of 1 lime
10g coriander, roughly chopped
Salt, pepper and a pinch of sugar
Directions
For the Gammon:
Place the gammon in a large pot with the water, spices and aromatics and simmer for 1 hour.
Remove from the cooking liquid and allow to cool slightly.
Remove the net and cut the gammon into 8 thick slices - "steaks" - then brush them with a little olive oil and place on the grid over hot coals.
Cook on either side for approx. 2 minutes (remember the gammon is already cooked and if you leave it on the fire for too long it will dry out.)

For the Salsa:

Place the pineapple slices on a hot grid and cook for 3 minutes or until the pineapple begins to colour and soften.
Remove from the heat and cut into a neat dice.
Cut the cucumber in half lengthwise and scrape out the seeds. Dice the cucumber and the red pepper. Add the grilled pineapple to the cucumber and peppers.
Grate the ginger into the salsa. Finely chop the chillies and add to the salsa, followed by the lime juice and chopped coriander.
Season to taste with the salt, pepper and sugar.

To Serve:

Remove the gammon steaks from the fire, place on a serving platter and spoon over generous amounts of the pineapple salsa.