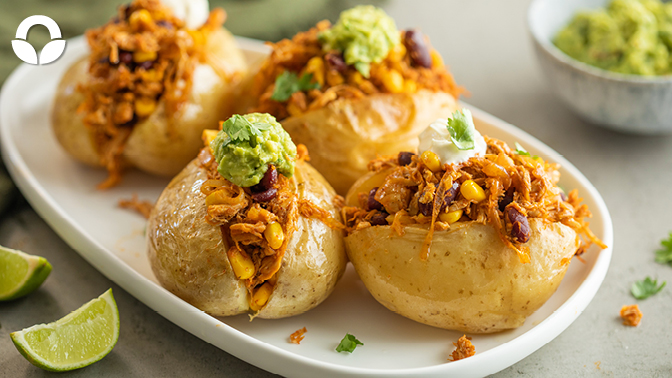 Loaded Mexican Chicken Stuffed Potatoes
https://foodloversmarket.co.za/recipes/loaded-stuffed-potatoes/
Who doesn't love a baked potato? This loaded potato recipe is perfect to make when you grab that veg combo or pocket of potatoes from Food Lover's! A filling of Mexican flavoured chicken and beans is loaded into perfectly baked potato and topped with homemade guacamole. These are a perfect weeknight meal, or serve them on a platter for friends.
You can easily make this meal vegetarian but replacing the chicken with mushrooms or additional beans.
Ingredients
4 Potatoes
15ml (1 Tbsp) olive oil
½ onion, halved and sliced
1 garlic clove, minced
15ml (1 Tbsp) paprika
5ml (1 tsp) ground cumin
5ml (1 tsp) ground coriander
1.25 (1/4 tsp) cayenne pepper
1 chicken breast, cooked and shredded
60ml (1/4 cup) water
125ml (1/2 cup) red kidney beans
125ml (1/2 cup) Food Lover's Whole Kernel Corn
Salt and pepper, to taste
To Serve:
30 ml (2 Tbsp) sour cream (*optional)
Fresh coriander, roughly chopped
Fresh lime, cut into quarters
For the Guacamole:
1 ripe Fuerte avocado
15 ml (1 Tbsp) lemon juice
15 ml (1 Tbsp) fresh coriander, roughly chopped
1 small chili, finely chopped (optional)
Salt and pepper, to taste
Directions
Rub the potatoes with oil and wrap them in tinfoil. Place in a 180°C preheated oven and cook for 30 – 40 minutes or until a knife can easily cut into the potato.
In the meantime, make the chicken filling. Heat the oil in a large saucepan over medium heat and add the onions. Sauté for 5 minutes or until slightly translucent, then add the garlic and cook for another minute or two.
Stir in all the spices and shredded chicken. To loosen up the mixture, pour in the water and stir until combined
Add the red kidney beans and corn and season with salt and pepper. Set aside.
Once the potatoes are cooked through, cut a 3 cm slice lengthways down the potato, make sure not to slice it all the way through. Stuff the potato with the filling.
Top with the guacamole and sour cream.
Finish with a squeeze of the lime and a sprinkle of coriander, enjoy.

For the Guacamole:

In a medium sized bowl, combine all the ingredients and mash well until smooth.