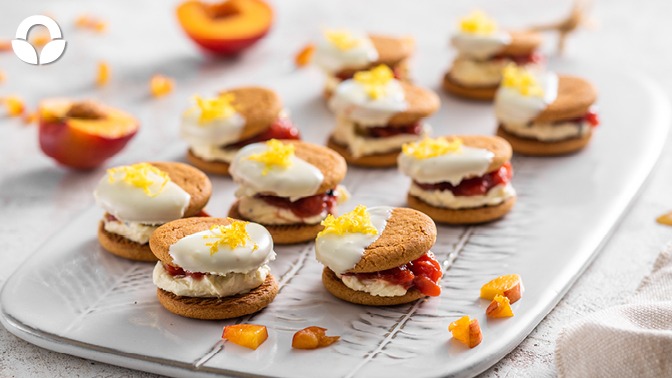 Lemon, Thyme and Nectarine Ginger Cream Biscuits
https://foodloversmarket.co.za/recipes/nectarine-ginger-cream-biscuits/
Lemon creams are out, festive Nectarine Creams are in! Ginger biscuits filled with refined sugar-free nectarine jam & thyme cream cheese.
A refined-sugar free Nectarine jam using nectarines and honey is the "cherry on top" or should we say filling to your sandwich in these biscuit bites. A sweet, tangy nectarine flavoured with a lemon & thyme cream cheese squished between delicious ginger biscuits. A perfect bite-size snack for your Summer or Christmas picnic.
Ingredients
For the Nectarine Jam:
6 small nectarines halved, pitted and diced
15ml (1 Tbsp) honey
For the Lemon and Thyme Cream Cheese:
125g cream cheese
Zest and juice of 1 lemon
4 sprigs of fresh thyme, picked
The Biscuit Sanwiches
16 ginger biscuits (of choice)
100g white chocolate, melted (*Optional)
Directions
For the Nectarine Jam:
Place the diced nectarine and honey into a small saucepan and cook on a medium heat for about 7 minutes.
Place the jam into a bowl and allow to cool completely before use.

For the Lemon and Thyme Cream Cheese:

Combine all ingredients and mix until well combined.
Set aside until needed.

To assemble:

Dip 8 ginger biscuits half way into the melted white chocolate and set aside on baking paper to set.
Spread some of the lemon and thyme cream cheese onto the other 8 ginger biscuits followed by a scoop of the nectarine jam.
Close the sandwiches with the chocolate-dipped biscuits and enjoy!
---
Notes
What if I don't like or have Nectarines?

Substitute the Nectarines for peaches, plums or apricots.

Can I make this vegan?

To make these vegan, you will need to find Vegan-friendly biscuits, dairy-free cream cheese, and remove the honey from the jam. Substitute the honey with maple syrup or maple-flavoured syrup, or agave syrup.

What if I don't like ginger biscuits?

The ginger biscuit flavour pairs amazingly with the jam and thyme cream cheese, but you are welcome to use other biscuits that you love, like shortbread biscuits.

What if I don't like white chocolate?

You can leave out the white chocolate dip, or use dark chocolate instead.