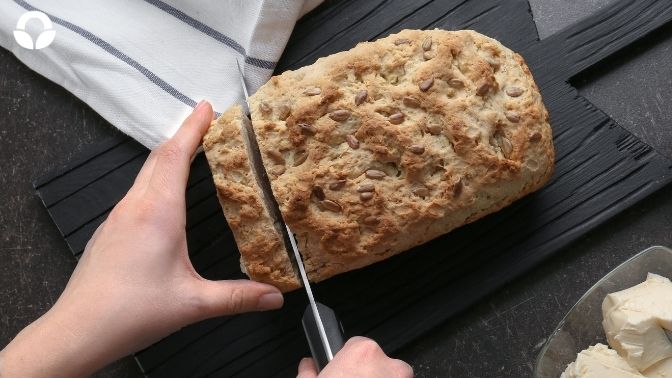 Quick No-Yeast Bread
https://foodloversmarket.co.za/recipes/quick-bread/
A basic quick bread recipe is always nifty to have up your recipe book sleeve. This quick bread recipe is a no=yeast recipe, using self-raising flour. You can whip up a fresh loaf of quick bread in under an hour, with only 35 minutes of cooking time and very little effort. Serve as you like, we love it straight out the oven with a dollop of butter that melts in. It's also a perfect homemade bread to serve with soup.
Ingredients
OPTION 1: Flour & Milk Bread
400g self-raising flour (*see substitutes)
1 tsp salt
250ml milk (of choice)
1 tbsp oil (optional)
OPTION 2: 2 Ingredient Yoghurt Bread
1 ¾cups Self-raising flour
1 cup Yoghurt
OPTION #: 2 Ingredient Buttermilk Bread
500g self-raising flour
500g buttermilk
Pinch of Salt
25ml Water
Directions
OPTION 1:
Heat the oven to 190°C.
Place a heavy baking sheet in the oven to heat.
Mix the self-raising flour and salt in a large bowl. Add the milk (and oil, if using), and stir together to form a dough.
Turn the dough out onto your work surface and knead briefly until the dough has a uniform consistency.
Shape the dough into a round disc, about an inch to an inch and a half (about 3 cm) thick. Score the top deeply with an X. This is important! Don't make a round ball of dough as it won't cook in the middle.
Bake on a baking sheet for about 35 minutes until risen and the crust is hard. (This loaf won't turn a deep gold so don't wait too long to check it.)
When ready, it should sound hollow when tapped on the bottom.

OPTION 2: Yoghurt Dough

Preheat the oven to 180℃.
Sift the flour and gently fold in the yogurt with a spatula until the mixture forms a dough.
On a floured surface, knead the dough by hand for about 5 minutes. If the dough is too sticky, add more flour, a little at a time, while kneading.
You could make this dough into flatbreads, breadrolls or a bread. Score the top deeply with an X or line using a knife. Bake in the oven for about 25 minutes, until golden brown and cooked.

OPTION 3: Buttermilk Dough

Same method as the yoghurt bread dough above.
Place mixture in a well-greased bread tin, about 22cm x 12cm. Bake for 45 minutes at 180℃. Check the bread after 45 mins and judge whether you want to leave it in for an extra 10 mins to brown.
---
Notes
Self-Raising Flour Alternative:
If you don't have self-raising flour at home, you can make your own using all-purpose flour and Baking Powder. 1 Cup Self-Raising flour = 1 Cup (125g) all-purpose flour + 1½ tsp baking powder + ¼ tsp salt.
Beer or Soda Bread:
An alternative to this quick bread is beer bread or soda bread (when you cannot get hold of beer). It's a one-bowl recipe all made by hand with a few simple everyday ingredients. It is the easiest bread you'll ever make, just simply mix and bake!
How to store unbaked 2 ingredient dough?
If you want to make this dough in advance, you can. Tightly wrap the dough with plastic wrap.  The dough will last 3 days refrigerated or 1 month frozen. So double up on the recipe and have it ready for whenever you need some dinner rolls.
When you need to use the dough, allow it slowly warm up on the counter to room temperature, still wrapped, before using it.