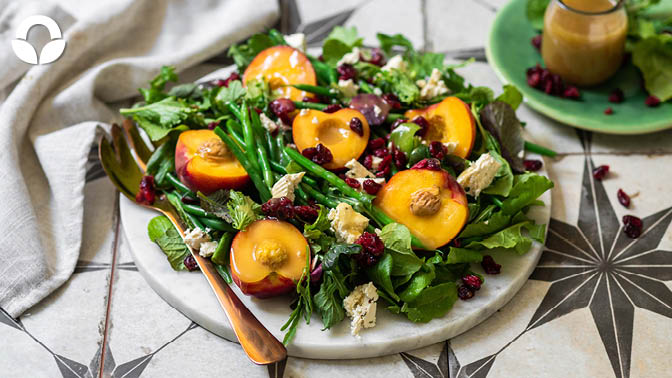 Festive Stone Fruit and Green Bean Salad
https://foodloversmarket.co.za/recipes/stone-fruit-green-bean-salad/
Seasonal stone fruit like peaches and nectarines paired with sweet cranberries, creamy feta & crunchy green beans. A perfect festive side!
Ingredients
For the Salad:
200g green beans, topped and tailed
1-2 cups wild rocket and mixed baby leaves
2 peaches, halved
2 nectarines, halved
80ml (1/3 cup) dried cranberries
2 wheels black pepper feta
For the Dressing:
80ml (1/3 cup) avocado oil
30ml (2 Tbsp) red wine or raspberry vinegar
7.5ml (1 ½ tsp) light brown sugar
5ml (1 tsp) Dijon mustard
Salt and pepper, to taste
Directions
For the Salad:
Bring a small pot of water to a rolling boil and cook the green beans for 1-2 minutes.
Strain the water from the pot and place the green beans in a bowl of ice water so that they remain bright green and crisp.
Arrange the wild rocket on a serving platter, followed by the stone fruit, green beans and cranberries. Lastly, crumble the feta over the salad.

For the Dressing:

Combine all ingredients in a glass jar and shake until well mixed and emulsified.
You can store the sealed glass jar in the fridge for up to a week.
Serve the dressing with the salad.