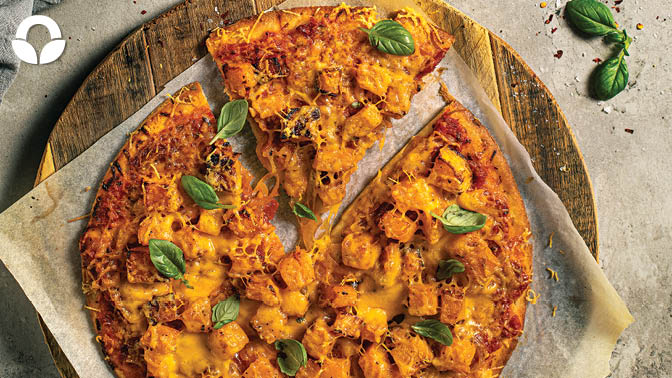 Easy Veggie Pizza
https://foodloversmarket.co.za/recipes/veggie-pizza/
Make the BEST veggie pizza at home! This vegetarian pizza is easy, with a ready-made pizza base or wraps as the base with roasted butternut & caramelized onions.
Use a wrap or ready-made pizza base that suits your lifestyle (regular, low-carb, vegan, etc.).
Ingredients
For the Veggie Pizza:
4 x ready-made pizza bases or wraps
500ml (2 cups) BIS tomato and basil pasta sauce
½ butternut, peeled and diced into 1-2cm pieces
15ml (1 Tbsp) butter
3 onions, sliced
2 garlic cloves
30ml (2 Tbsp) brown sugar
250ml (1 cup) Food Lover's cheddar
30g wild rocket or basil leaves, to garnish
Salt and black pepper, to taste
Directions
For the Veggie Pizza:
Preheat the oven to 180°C. Place the pizza bases or wraps onto a baking sheet and spread the pasta sauce over the bases.
Place the butternut on a baking tray, season to taste and drizzle with a dash of olive oil. Roast in the oven for about 20-25 minutes or until cooked and golden. Set aside until needed.
Heat a frying pan on a low heat, adding the butter. Once bubbling, add the onion and garlic and sauté for about 5-8 minutes, then add the sugar and cook for another 10 minutes or until caramelised. Season to taste.
To assemble the pizzas, top the pizza bases with the caramelised onion and roasted butternut. Sprinkle the cheese over the pizzas and bake for about 12-15 minutes or until the cheese has melted and the bases are crispy.
Garnish the pizzas with wild rocket or basil and season to taste.