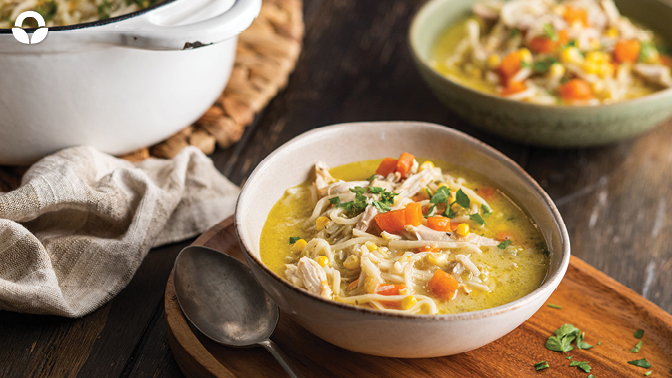 Chicken Noodle Soup
https://foodloversmarket.co.za/recipes/chicken-noodle-soup/
Nothing says Winter like a hearty bowl of soup! This chicken noodle soup is simple, packed with flavour and a perfect winter soup for the soul. This recipe uses a whole chicken, simmering a whole chicken with root vegetables and herbs creates a delicious homemade bone broth, which is the 'stock' for the soup. The chicken meat is shredded and added into the soup. This soup is well worth it!
If you want a low-carb option, leave out the noodles! Or if you prefer pasta, substitute the noodles for pasta.
Cooking Time
1 hour 15 minutes
Ingredients
1 onion, finely chopped
2 garlic cloves, finely chopped
2 large carrots, cut into small cubes
2 celery stalks, cut into small cubes
30ml (2 Tbsp) olive oil
1 Food Lover's whole chicken
750ml (3 cups) chicken stock
800ml (2 cans) Food Lover's coconut milk
2 sweetcorn's, cut off the cob
150g Food Lover's egg noodles
Salt and pepper, to taste
Directions
In a large pot over medium heat, sauté the onion, garlic, carrot, and celery in the olive oil until golden brown.
Place the whole chicken in the pot and cover with the chicken stock and coconut milk. Simmer for about 1 hour or until the chicken is cooked.
Remove the chicken from the pot and discard of the skin and bones.
Shred the rest and place it back in the pot with the sweetcorn and noodles. Cook for another 5 minutes or until the noodles have cooked. Season with salt and pepper and enjoy.
---
Notes
Soup for the soul. Looking for other soup recipes?
Browse through our other delicious soup recipes here.