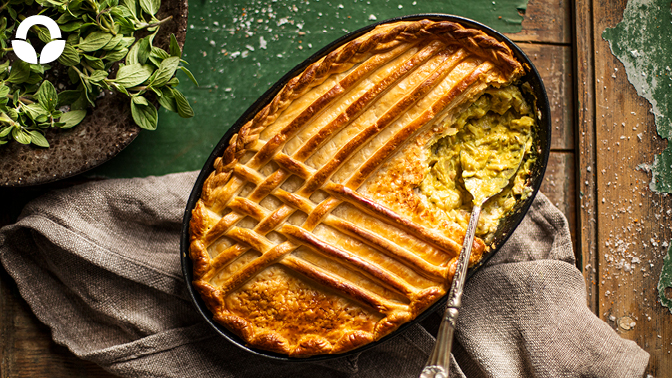 Curried Chicken and Mushroom Pie
https://foodloversmarket.co.za/recipes/curried-chicken-and-mushroom-pie/
Everybody LOVES a good pie, and trust us, this one is a winner. A chicken & mushroom pie with a little twist, that you won't resist. Whole chickens are roasted, shredded and mixed in with pan-fried mushrooms and some extra spices inspired by the flavours of Africa…Turmeric, and a North African spice (or a ras el hanout or great curry powder.). The filling is mixed with a creamy bechamel (white sauce), topped with puff pastry, and baked until golden, crisp and perfect.
Category
African Flavours
Chicken and Poultry
Winter
Ingredients
For the Filling:
Olive oil
2 onions, chopped
2 baby leeks, chopped
1 green bell pepper, chopped
6 sprigs of fresh thyme, picked
250g mushrooms, sliced
30ml (2 Tbsp) curry powder
5ml (1 tsp) turmeric powder
2 whole chickens, roasted and shredded
Salt and black pepper, to taste
For the Sauce:
80ml (1/3 cup) butter
80ml (1/3 cup) flour
810ml (3 ¼ cups) milk, lukewarm
To assemble:
1 roll puff pastry, thawed
1 egg, beaten
Directions
For the Filling:
Heat a frying pan with a dash of olive oil.
Fry the onions, leeks and green pepper until soft and translucent for about 5 minutes. Add the thyme, mushrooms, and spices.
Add the chicken and season to taste.

For the Sauce:

In a small saucepan, melt the butter, add all the flour and stir until you have a paste. Add the milk and whisk. Season to taste. Whisk constantly until it bubbles, and the flour is cooked.
Combine the sauce with the filling and place in an ovenproof pie dish.
Top with pastry to your liking, brush with egg wash and bake in a preheated oven at 180°C for about 40-45 minutes or until cooked and golden.
---
Notes
Learn more about the spices and flavours of Africa here. 
Get creative, and add some cutout pastry pieces or plaited pastry pieces for a real showstopper of a pie.