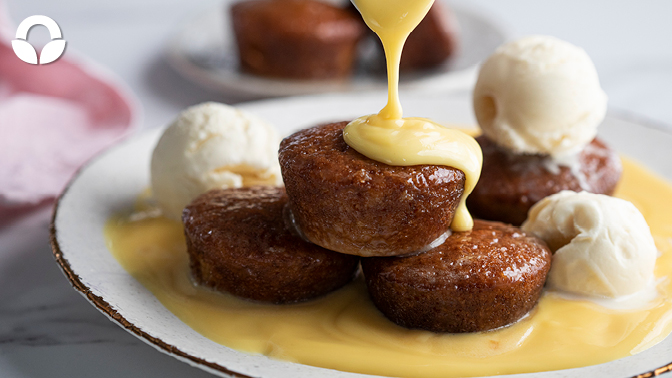 Malva Pudding Muffins
https://foodloversmarket.co.za/recipes/malva-pudding-muffins/
A classic, favourite South African pudding, made into muffins. We all love bite-size or mini forms of foods right?! Plus, these muffins should never be dry, only bites gooey, moist delicious Malva.  These malva pudding muffins are just the right size portion for an individual delicious treat.
The question is, will you enjoy these for breakfast, tea time, or dessert?
Category
Baking
Desserts
Vegetarian
Ingredients
For the Malva Muffins
270g brown sugar
3 large eggs
1 ½ Tbsp apricot jam
30ml (2 Tbsp) butter
1 ½ tsp vinegar
125ml (½ cup) milk
225g flour
1 ½ tsp baking sod
½ tsp salt
For the Sauce
250ml (1 cup) cream
150g butter
100g brown sugar
62ml (1/4 cup) hot water
5ml (1 tsp) vanilla paste
Directions
For the Malva Muffins
Preheat the oven to 180°C and grease the muffin tray well.
In a large bowl, beat the sugar and eggs together until light and fluffy, then add the apricot jam.
Melt the butter and beat into the mixture along with the vinegar and milk.
Sieve the dry ingredients and fold into the wet mixture until well incorporated.
Divide the mixture into the muffin holes, leaving a bit of space for the sauce. Bake for 10 minutes or until golden brown.

For the Sauce

In a medium saucepan, heat all the ingredients until the butter is melted and the sugar has dissolved.
Pour the sauce over the hot puddings and enjoy with vanilla custard and ice cream.