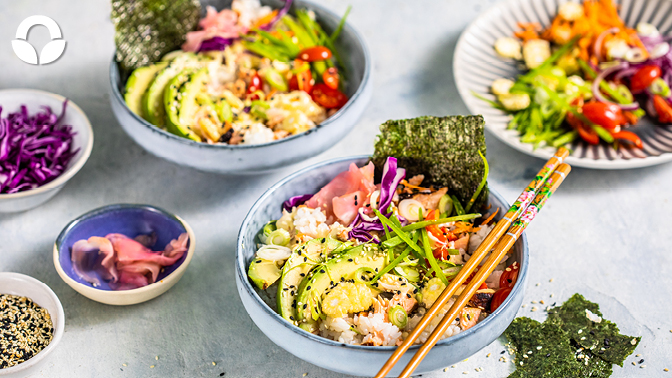 Salmon Rice Bowl
https://foodloversmarket.co.za/recipes/salmon-rice-bowl/
Salmon, rice, and everything nice…these are the ingredients that make up this seriously delicious fresh Summer salmon bowl! Another TikTok trend combining leftover salmon and rice with soy sauce, kimchi, and mayo to make the yummiest bowl. It's so yummy, you don't need to use leftovers. In this recipe, we marinated Salmon in soy, sesame, and honey sauce, and then pan-fried it until just cooked through. Flaked and mixed in with rice and mayo, toped with avo, ginger and soy…you can't go wrong! This balanced bowl is also great for meal prepping or if you need a packed lunch for work.
Ingredients
For the Marinade:
30 ml (2 Tbsp) Food Lover's Market Olive Oil
125 ml (1/2 cup) soy sauce
15 ml (1 Tbsp) ginger, crushed
1 clove garlic, crushed
30 ml (2 Tbsp) sesame oil
30 ml (2 Tbsp) honey
1 lemon, zested and juiced
To Assemble:
250 ml (1 cup) sticky sushi rice, cooked according to package instructions (See notes below)
2 nori sheets, cut into strips or whole to serve
80 ml (1/3 cup) cabbage, shredded
80 ml (1/3 cup) carrot, grated
30 ml (2 Tbsp) red onion, thinly sliced
125 g mange tout, shredded
15 ml (1 Tbsp) pickled ginger
1 avo, sliced
30 ml (2 Tbsp) mayo
1 spring onion, sliced thinly
15 ml (1 Tbsp) sesame seeds, toasted
Directions
Combine all the ingredients for the marinade. Add the salmon and allow to marinate for about 30 minutes or overnight.
Once marinated, heat a pan with oil and cook the salmon until browned on all sides.
In a large bowl, combine the rice and salmon, flaking the salmon as you combine. Top with the rest of the ingredients and enjoy.
---
Notes
Do I have to use sticky rice?
No, you can use any rice you like. Basmati rice will work well, otherwise, you can use brown rice for a bit of crunch.